Fabric Lampshades
---
Serenity #1014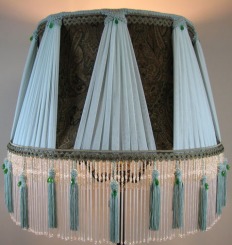 PURCHASE ITEM


This elegant Victorian lamp shade is covered in a velvety suede paisley fabric in browns, greens and dark gold tones. Soft green fan pleating cascades down the sides creating a dimensional effect over the paisley print. Antique gold-green metallic braid and soft green gimp trims finish the top and bottom wires. Crystal glass beaded fringe with soft green tassels and emerald teardrop beads create it's finishing touches. The shade is 14" top x 19" bottom x 11" high, plus 6" fringe. This lampshade is suitable for a floor lamp or large table lamp. The top wire has stops for a glass globe or a spider fitter for a regular lamp harp and uses no more than a 60watt bulb. The price is for the lampshade only.
---
---
Lampshade #1012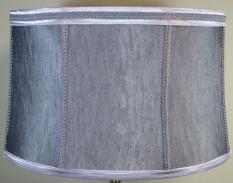 SOLD



Hand sewn Silver grey silk shantung drum shaped lampshade trimmed in silver grey gimp, handcrafted silver grey bias and white liner. 17 1/2 top x 19" bottom x 11 1/2 high. This lampshade has a spider fitter and notches that would rest on the globe of a torchiere floor lamp. Can be used with a large table lamp or a floor lamp. Recommended wattage: 60watt incandescent or larger in fluorescent.
---
---
Lampshade #1010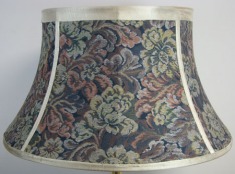 PURCHASE ITEM



Warm browns, tans and golds in a flower pattern rest beautifully on this Empire shaped frame. Trimmed in a subtle antique gold bias. Fully lined. The fabric has a tapestry look. Floor or table lampshade 13" top x 20 1/2" bottom x 11 1/2" high. This lampshade has a spider fitter and will also rest on a glass globe.
---
---
Lampshade #1011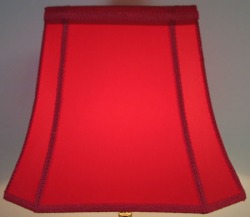 SOLD






Lovely red peach skin cut corner Empire lampshade. Hand sewn with white liner fabric, red gimp trims and handcrafted red bias trim. 9 1/2" Top x 15" Bottom x 12 1/4 High. The red appears a little bit darker than in the photo.
---
---
Pink and Mauve Roses lamp shade #1015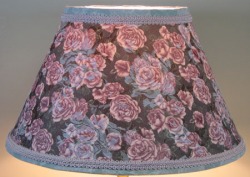 PURCHASE ITEM


This fabric covered hardback lampshade has a bit of a Victorian feel with it's pink and mauve roses on a jacquard fabric. The background color has tones of grey which really creates an elegant backdrop for the roses. The shade is finished with handcrafted bias trim out of the same fabric reversed, and pink gimp trim. The shade has a regular spider fitter and is 7" top x 14" bottom x 8 1/2" high and uses no more than a 40watt light bulb.
---